The Importance of Exfoliation and Exfoliators
When it comes to skincare, the face gets the lion's share of attention. And while that might seem unfair to the skin on your back, there's a good reason for this focus on the face. Your face is, after all, the one part of your body that is typically exposed to the elements 24 hours a day, 7 days a week. Even your hands get gloves when it's cold out. Being so exposed means the face on your skin winds up as a kind of catch-all. Not only for whatever the weather has in store, but for all manner of natural and manmade contaminants. Washing your face regularly then becomes extremely important. But washing is rarely enough to remove deep seated dirt, grime, oil, bacteria and more. For that, you need a good exfoliant.
Why Exfoliating Your Skin is Important
As we mentioned, washing your face every day is important. But washing alone won't reach into clogged pores and remove what's become lodged there. Nor will washing alone remove all the dead skin cells that cling to the surface of your face, clogging pores themselves, and interfering with the emergence of new, healthier cells. Only exfoliation can do that.
The process of exfoliation is driven by different types of exfoliants. And there are many. Some are natural compounds delivered by masks that can be made in your home. (And we'll get to them in a few moments.) Others are chemical-based commercial exfoliants available at most online and brick and mortar beauty supply shops. And still, others are skincare tools. Such as clarapulse by Dermaclara.
But the delivery method is not as important as the message. And that is that regular exfoliation is the best way to ensure your face always looks and feels its best. It's also the best way to eliminate blackheads and prevent the development of pimples and acne. So if you are not exfoliating on a regular basis, you are leaving the skin on your face wide open to both the internal and external forces of depletion and degradation.
What's the Difference Between Natural and Chemical Exfoliants?
Natural Exfoliants

-

Natural

exfoliants include

sea salt

, oatmeal, apple, coffee, baking soda, rice,

sugar

, almond powder and more. These "physical exfoliants" act like a sand blaster and physically remove dead

skin

cells

from the surface. When combined with other "vehicles" like avocado, yogurt and more, and applied as a

face mask

,

natural

exfoliants can also reach down into dirty pores and pull out contaminants.

Chemical Exfoliants

- By contrast, chemical exfoliants use the power of enzymes and acids (like hyaluronic acid and lactic acid) that dissolve the bonds holding dead

cells

to one another and to live

cells

on your

face

. In addition, these acids and enzymes also have the ability to reach deep into dirty, clogged pores and remove contaminants hiding there. For that reason, you often find them being used as

ingredients

in commercially available masks. Don't be scared by the word "acid" however. These are some of the mildest acids there are, and in most cases, can be used by just about anyone with any

skin

type, without doing any damage.

Skincare Device Exfoliants - Certain devices can help exfoliate the skin by stimulating the surface to dislodge gunk and dead skin cells, leaving a clear complexion.
"Exfoliation is like peeling an onion, which is dry and brown outside." - Dermatologist Gary Goldfaden
Best 5 All-Natural Face Exfoliating DIY Recipes
Create your own all-natural face exfoliators by following these recipes.
1) The Coffee Ground Exfoliating Scrub
Don't throw away those old coffee grounds. Put them to use cleansing your face instead. To make this scrub, all you'll need is a tablespoon of old coffee grounds and a tablespoon of olive oil. That's it.
Mix the two together until the form a grimy paste. Yes, it's going to look and feel pretty unpleasant. But it's also going to leverage its load of caffeine and antioxidants to open pores and allow the trapped dirt and grime to spill out. The mild abrasiveness of the coffee grounds will also remove dead and dying skin cells and leave your face feeling clean and refreshed.
2) The Baking Soda Face Scrub
Baking soda is a natural abrasive, and anyone who's ever used it for cookies and cakes will attest to that. As such, it's a natural choice when looking through the cupboards to come up with something with which to make a DIY exfoliation scrub.
All you'll need to deliver this exfoliating facial scrub is your everyday facial cleanser. Just mix a teaspoon of baking soda with your cleanser and use it to scrub your face with. You'll be able to feel the baking soda going about its work while you move your fingers across your skin in slow circular motions. As a bonus feature, the baking soda also absorbs any excess oil on the skin.
3) Egg White and Rice Exfoliating Scrub
For this DIY exfoliating facial scrub, you'll need 2 tablespoons of brown rice and an egg white. You'll also need a coffee grinder. (You didn't think you were going to rub full grains of rice into your face, did you?)
Take the rice and grind it with the coffee grinder until you have a flour-like substance. Then mix that with the white from a single egg. Whip it up until it forms a paste. Then, using your fingertips, rub the paste into your skin using the same slow circular motions we mentioned above. When you're done, rinse thoroughly with warm water.
4) Oatmeal Exfoliating Scrub
Oatmeal is a staple of the homemade face mask because of its exfoliating ability, and its anti-inflammatory properties. For this exfoliating scrub, all you'll need is a 1/2 cup of plain oatmeal and a bit of water.
Grind the oats in a blender or coffee grinder, then slowly add water to the resulting powder and mix until it forms a paste. Then apply the paste in the now-familiar slow, circular motion to your face.
5) Brown Sugar Face Scrub
Brown sugar is naturally coarse and as a result, makes a good exfoliant. To make this exfoliating scrub, simply mix 1 tablespoon of brown sugar with 1 tablespoon of honey. Mix the two until you have an abrasive paste, and then work it into your skin with, that's right, gentle circular motions.
Being a natural humectant, the brown sugar will scour away dead and dying skin cells and clear the palette for the emergence of new, healthier cells. The honey will also pull contaminants out of the pores.
What's the Best Natural Exfoliator for the Face?
The best natural exfoliant for the face is probably oatmeal. Though you should try several different all-natural face exfoliators and see which you like best.
What's a Good Natural Exfoliator for Acne?
A good natural exfoliator for acne is baking soda. That's because it not only cleans pores and removes dead skin, it also soaks up excess oil.
Top 3 Exfoliating Products
Clarapulse by Dermaclara Beauty - $39.99

Clarapulse is a pore-refining massage device that gently but thoroughly clears your skin of dead cells. All Dermaclara products have undergone rigorous 3rd party testing to verify their effectiveness, with clarapulse showing positive results for more than 90% of users.
Pros
Part of an effective anti-aging

skincare

system.

Buffs away dead

skin

cells

.

Restores luster and tone to your

face

.
Cons
Available only through the Dermaclara website.
Neutrogena Naturals Purifying Pore Scrub - $8
This is a good exfoliating scrub for those with normal skin. Contains natural jojoba beads that clear your skin of dead cells and impurities, while detoxifying and restoring tone. Rich in bionutrients, it leaves your skin feeling lighter and cleaner.
Pros
Won't clog pores like some

face scrubs

.

Free of harsh chemicals, parabens, dyes and sulfates.
Cons
Not as good for acne as it claims.
Garnier Clean + Balancing Daily Exfoliator - $19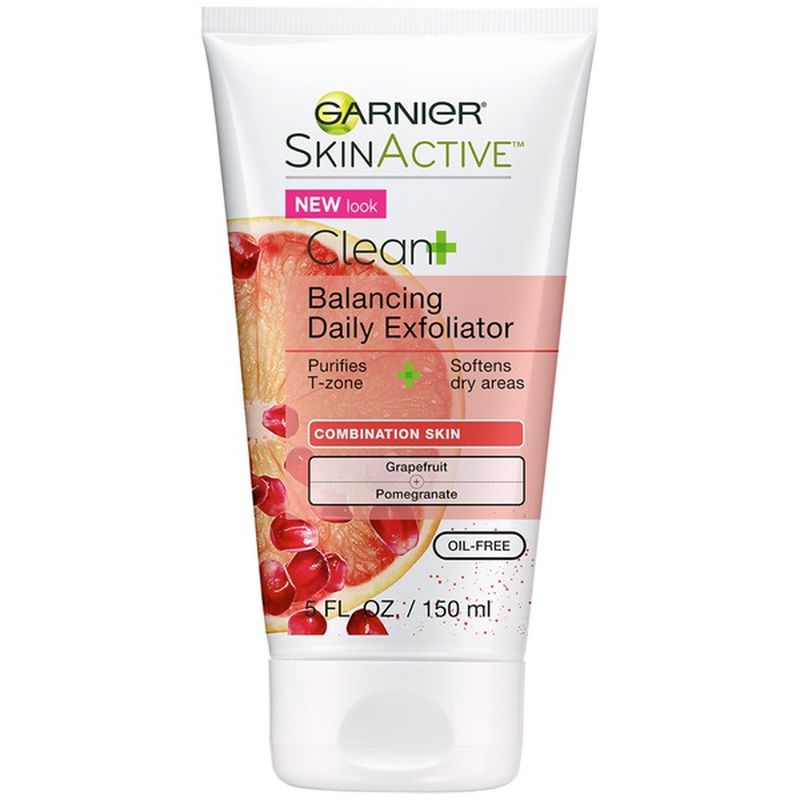 Garnier infuses their exfoliator with antioxidant-rich grapefruit and pomegranate that soften the skin surface and restore luster and tone once the dead cells have been removed. It neutralizes toxins, scours your pores of dirt and grime, and leaves your face feeling clean and smooth.
Pros
Gentle

exfoliating

action.

Ideal for those with combination

skin

.

Free of

oil

and infused with pomegranate and grapefruit.
Cons
Be careful which online source you purchase from.
Where Can I Buy Face Exfoliators?
Two of the above-profiled exfoliators can be purchased through Amazon, through major online and brick and mortar beauty supply stores or through their manufacturer's websites. When buying through Amazon, be sure you only purchase beauty and skincare products direct from the manufacturer. Our top choice - clarapulse by Dermaclara Beauty- can only be purchased via the official Dermaclara website, which you'll find here.
Bottom Line: Why You Should Add an Exfoliant to Your Current Skincare Routine
It's important to make regular exfoliation part of your skincare routine. When you exfoliate your skin, you remove dead skin cells, clears away excess oil and pulls toxins and environmental contaminants out of your pores. If you don't exfoliate on a regular basis, then every time you apply moisturizer and serums to your face, it's like waxing a dirty car. While all of the exfoliants profiled above will help, we recommend you use clarapulse by Dermaclara to make sure your face is always as clean and clear as it can be.