How to Treat and Prevent Marionette Lines
While marionette lines (nasolabial folds) are commonly referred to as "laugh lines," the fact is that it's nothing to laugh about. Marionette lines typically extend from beside the nostril down toward the corners of the mouth.
At some point, they almost invariably join up with lines extending downward from the corner of the mouth and may eventually reach all the way to the chin line. While there's nothing harmful or painful about them, most people see them as an unwelcome reminder of the passage of time and they're certainly that.
But there are a number of reasons why they appear and not all have to do with aging. Below, we'll peer into the top likely causes of marionette lines and provide some methods for effectively dealing with it.
What Causes Marionette Lines?
The most common causes of marionette lines are:
Repetitive facial expressions

- While smiling, laughing, and generally being expressive are wonderful things, repetitive muscle movements can promote the development of permanent

lines

at the place where the

facial

tissue

folds

.

Aging

-

"Smile lines occur due to the natural loss of volume that occurs in the face with age,"

says Dr. Kavita Mariwalla. This

loss

of volume causes the

skin

to sag and become more susceptible to

lines and wrinkles

.

Smoking

- Smoking robs the

skin

of much-needed oxygen. This has the effect of slowly suffocating the

skin

and causing it to shrivel and lose structural integrity. Once that happens, it doesn't take much prompting for lines to start developing.

Dehydration

- You'll hear about this a lot during discussions about skincare and for good reason. Not drinking enough water is a major cause of

lines

,

wrinkles

,

folds

, creases, crepey

skin

, and more. You should be drinking between 6 to 8 cups of water per day every day.

Genetics

- Unfortunately, if one or both of your parents had

deep

-seated

marionette lines

that appeared early in life, chances are pretty good that you'll suffer from them as well.
When do Marionette Lines Likely Appear?
There's no single answer to this question. In some cases, marionette lines will first appear very early, as early as a person's late teenage years. In most cases, however, they won't become really noticeable until a person is in their 20's or early 30's. Keep in mind too that some people don't develop them until very late in life and some people never develop them.
How to Get Rid of Marionette Lines Quickly?
To get rid of marionette lines quickly, you'll need to undergo clinical procedures such as dermal fillers. Below, we'll get into that and several other clinical approaches for dealing with marionette lines.
Top 5 Clinical Treatments for Reducing Marionette Lines
Of course, the best way to deal with marionette lines is to prevent them from occurring in the first place. This isn't always possible, however. So if you're looking for a relatively fast way to deal with already well-established marionette lines, the following are your best options.
Dermal fillers

-

Fillers

take two basic forms. The first is a

product

like Juvederm, which uses

hyaluronic acid

to promote

collagen production

. The other method entails injecting an inert substance into the tissue to immediately fill in the

lines

and restore a smooth surface. According to Dr. Edwin E. Dickersen,

"Fillers are affordable and last up to a year."

Facelift

- Until

dermal fillers

came into their own, the

facelift

was the preferred method of dealing with

marionette lines

. It's still a very popular option because it provides long term

results

. The problem with facelifts is that they require a very deft, experienced hand or they'll wind up giving your

face

a surreal

appearance

.

A

facelift

is also going to produce scars somewhere near the periphery of your

face

. Exactly where and how visible they'll be will again depend on the skill of the cosmetic surgeon.

Laser Treatments

- There are different types of lasers for performing different types of cosmetic work. For

marionette lines

, a

skin

tightening laser is used that penetrates to the under layers of

skin

to promote the production of

collagen and elastin

.

There's some immediate tightening of the

skin

as well. But to enjoy the full benefits of this

treatment

, you'll need to wait a while for the

collagen and elastin

production to kick in.

Micro-Needling

- This type of

treatment

involves rolling a device with scores of tiny needles protruding from it over the surface of the

skin

. The tiny needles create barely noticeable damage to the

skin

, which is enough to cause the body's own repair and replacement mechanisms to kick in.

The result is brighter, smoother, more supple

skin

. This procedure is sometimes combined with growth factor gels to optimize

results

.

Botox

- Of course, everyone wants to know if Botox will work on

marionette lines

and the answer is "sometimes." But you'll need to be careful. You see, Botox is not really intended to

treat

deep

creases and

marionette lines

are usually the deepest

lines

on a

face

.

If you catch the development of your

marionette lines

early enough, Botox may wind up being effective. But even so, it will need to be administered by an experienced dermatologist or clinician. Sometimes Botox is combined with

dermal fillers

to maximize the effectiveness of both.
There's no doubt that clinical treatment options represent the fastest, most effective way of dealing with marionette lines. However, these procedures aren't for everyone. So let's take a look now at the best non-clinical, non-surgical methods of reducing marionette lines.
How to Get Rid of Marionette Lines Without Surgery?
To get rid of marionette lines without surgery, use Clarasome by Dermaclara or one of the other fine products we're about to profile.
7 Best Products to Help Get Rid of Marionette Lines

Clarasome Radiance Restoring Moisturizer by Dermaclara Beauty was put to the test by 3rd party lab BioScreen who concluded it does an outstanding job reducing the appearance of lines and wrinkles. It exfoliates, restores, and moisturizes skin visibly by reducing the appearance of smile lines while enhancing skin tone from cheek to cheek.
This is our top choice for the best way to get rid of smile lines without plastic surgery.
Pros
Utilizes

hyaluronic acid

to promote

collagen production

Enhances tone and surface texture

Provides a robust mix of nutrients to protect your

skin
Cons
Only available through the Dermaclara website
Kiehl's Double Strength Visible Wrinkle Filler, $39
You can use Kiehl's Double Strength Visible Wrinkle Filler as a foundation for your makeup or as an overnight skin softening and wrinkle-fighting treatment. Like most of the items on this list, it leverages hyaluronic acid to promote collagen and elastin production.
Pros
Smooths visible

lines and wrinkles

Provides

hyaluronic acid

to clear pollutants and dead

skin

cells

Promotes

collagen and elastin

production
Cons
Not very effective on

deep

smile lines
Prescriptives Super Line Preventor XTreme, $89
Super Line Preventor XTreme pulls off a pretty neat trick by visibly plumping your skin on contact. In a sense, the effect is a bit scary. But it doesn't hurt or cause irritation, and there's no denying facial lines look smoother after using it.
Pros
Produces an immediate feeling of plumpness

Restores luster to tired-looking

skin

Feels great going on
Cons
Beneficial

effects

tend to fade pretty quick
Boots No. 7 Instant Illusion Wrinkle filler, $17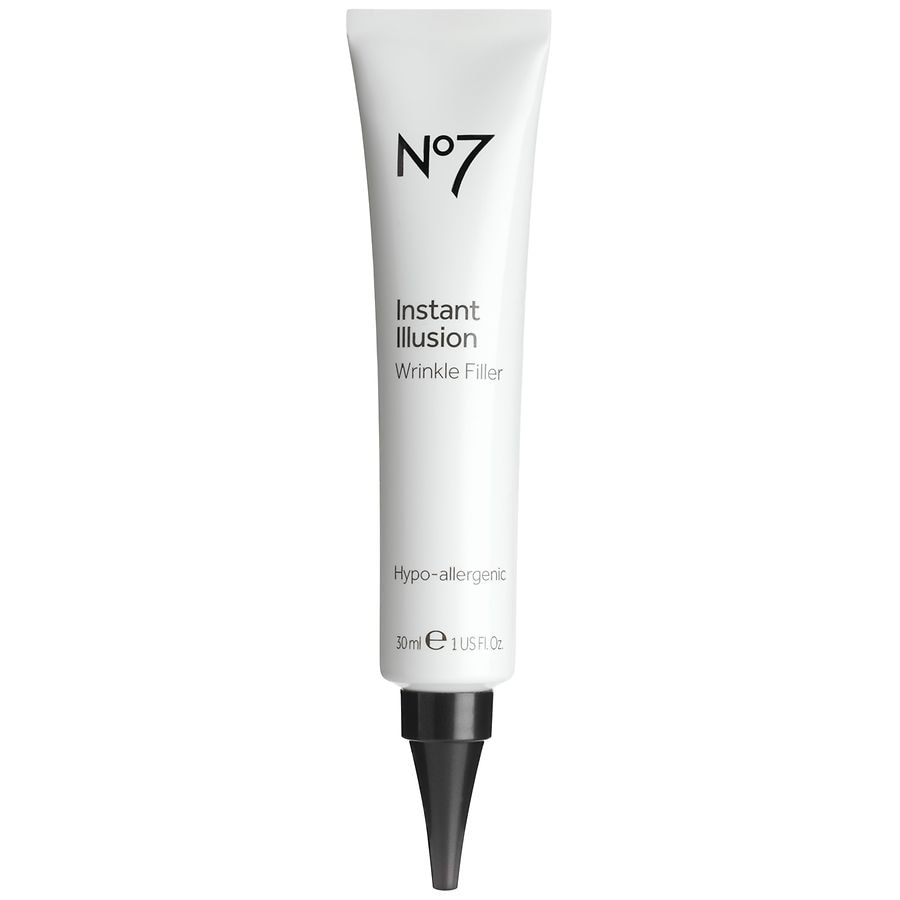 Boots No. 7 products have a worldwide reputation for quality and affordability. Their Instant Illusion Wrinkle Filler, while not a solution to nasolabial folds and marionette lines, can nonetheless soften their appearance in short order which helps you look your best for important occasions.
Pros
Creates the illusion of shallower, smoother

lines

A great choice if you want to minimize the

appearance

of

lines

for an important occasion
Cons
Strictly a short-term solution
ELEMIS Ultra Smart Pro-Collagen Eye Treatment Duo, $230.00
Sometimes an outrageous price is just a brand-related cash grab and sometimes you get what you pay for. Elemis Ultra Smart tends more toward the latter in the sense that you can feel the quality when you put it on. And over the course of just a few applications, you'll start to see fine lines disappearing and deeper lines softening up a bit.
Pros
One of the most effective at promoting

collagen production

Works on all types of

facial

lines and wrinkles
Cons
You might have to give up eating for a week to afford it
Paula's Choice Resist Hyaluronic Acid Booster Concentrated Serum, $36.00
Paula's Choice Resist HA Booster Serum is formulated to work faster than some other hyaluronic acid-based skincare products. And that's good because not everyone has the patience to wait for collagen production to fill in their marionette lines. What it does produce almost immediately is a feeling of moist, supple skin.
Pros
Leaves behind smooth, supple feeling

skin

The instant plumping action works quickly on fine

smile lines

A good choice for around the eyes too
Cons
Good but not the miracle worker it claims to be
SPACE.NK. Apothecary Sunday Riley C.E.O Rapid Flash Brightening Serum, $85
Sunday Riley C.E.O. Rapid Flash Brightening Serum may have the longest name of any skincare product, but we'll let them slide because it's generally effective for mitigating lines and wrinkles—including smile lines and crow's feet around the eyes. It's a slow-mo solution, but one that's likely to pay some satisfying dividends if you stick with it.
Pros
Brightens up your

skin

and restores luster

Enhances overall tone and minimizes

fine lines and wrinkles

Does a decent job on mild to moderate

marionette lines
Cons
Don't expect to see

results

for some time
Where Can I Buy Products to Get Rid of Marionette Lines?
All of the products listed above can be purchased from Amazon and most are also available at online beauty retailers like Sephora. You should always be careful when purchasing beauty products through Amazon, however, and only buy from the manufacturer's official Amazon store and not from individual 3rd party resellers.
Our top choice, Silicone Fusion™ Patches for Face by Dermaclara Beauty, can be purchased through the official Dermaclara website which you'll find here.
Final tips: How to Prevent Marionette Lines
An ounce of prevention is worth a pound of cure. Nowhere is that saying more applicable than when it comes to marionette lines. While genetics may have some part to play with some people, the fact is many of us can drastically reduce the odds of developing deep permanent lines by taking the following tips to heart:
Drink more water

- This is a skincare must. No good can come from any

marionette lines

treatment

if you aren't in the habit of drinking enough water to hydrate your skin.

Quit smoking

- Any genetic tendency you may have toward

marionette lines

will only be magnified by the

skin

-killing habit of smoking.

Exfoliate regularly

- In many cases,

marionette lines

result as much from poor

skincare

habits as anything else.

Use moisturizers

- Keeping your

skin

moist and supple will help it retain its elasticity and stave off the development of

marionette lines

.

Be aware

- No one's going to recommend you stop smiling and laughing but try to be aware of how long you hold that

smile

. Reducing the amount of time the

skin

is folded will slow the development of

smile lines

.