Chase Away Spider Veins with These Pro Tips
The scientific name for the condition we call spider veins is telangiectasia. But no matter what you call them, nobody wants to see this web-like phenomenon take root on their one and only face. While it's common for spider veins to appear on the legs, they are far less common on the face. But that's cold comfort for those who have them there. In a nutshell, spider veins, no matter where they appear, are nothing more than dilated blood vessels in the uppermost layer of the skin. What causes them to dilate is what we're going to investigate. And then we'll provide some pro tips on how to deal with them effectively.
Top Causes of Having Spider Veins on the Face
Some of the most common causes of spider lines on the face are: 
Aging

- As the

skin

on the

face

loses collagen, these thin-walled

veins

themselves become more visible through the thinner, aging

skin

. 

Gender

- It is believed that hormonal changes that women undergo during various stages of life play a role in weakening the walls of capillaries, making

spider veins

possible. 

Smoking

- Smoking robs your

skin

of oxygen, and that has a cascading effect throughout all the layers of

skin

. 

Genetics

- While no one has yet found the

spider veins

gene, mountains of anecdotal evidence suggests that if one or more of your parents had

spider veins on the face

, then you will too. 

UV light rays

- Ultraviolet light penetrates the outer layers of skin, weakening the structure. As dermatologist Sandra Lee says,

"Sunscreen is a must-have, and not just for sunny summer days."

Alcohol use

- Alcohol use dilates the

blood vessels

, causing them to weaken and lose their ability to snap back to their normal size. 

Skin conditions

- Eczema,

rosacea

, acne and more can inflame the

veins

of the

face

causing them to dilate and

spider veins

to

form

.
How to Get Rid of Spider Veins on the Face Naturally?
Getting rid of spider veins on the face naturally is not easy. The only time you have a realistic chance of eliminating them with a natural treatment is when they first appear. Once they've become firmly established and widespread, you'll need to seek out a high-quality commercial product or submit to one of the following clinical treatments.
Top 3 Clinical Treatments for Spider Veins on the Face
Clinical treatments for spider veins on the face have come a long way in the past 20 years or so. To the point now that it's actually possible to eliminate most or all of the offending veins relatively quickly and without leaving any residual scarification. Here are the 3 most popular clinical treatments. 
Laser Therapy

- Over the years,

laser therapy

has become increasingly effective for treating

spider veins on the face

. What the

doctor

or clinician does is heat up the damaged vein with the

laser

. This causes a scar to form inside the vein, cutting off

blood

flow. With no

blood

flowing through it, the vein is no longer visible on the

surface

. Depending on the extent of the

spider veins on the face

, you may have to undergo a few, or even several treatments. 

Veinwave

- Veinwave is a relatively new

treatment

that works on the same premise as

laser therapy

. The only difference is that, instead of heating the vein with a

laser

light, a tiny needle is inserted into the vein. Electric current is run through the needle, which creates heat and - as with the

laser

- produces a scar inside the vein, which shuts off

blood

circulation. There's no month-long wait to see results with veinwave

treatment

. The

spider

veins may disappear in as little as 15-20 minutes. 

Sclerotherapy

- During sclerotherapy, the

doctor

injects either salt or a chemical solution directly into the vein. This causes an irritation in the vein. Sensing the

blood

is the cause of the irritation, the vein ejects any

blood

that is in it and closes up to prevent any more

blood

from entering. Once empty of

blood

, the vein is no longer visible through the outermost layer of

skin

.
What Products are Good for Treating Spider Veins on the Face?
Products that are good for treating spider veins on the face include Clarasome Radiance restoring moisturizer. Below we'll take a closer look at that, as well as a few other worthy products.
Top 5 Products for Treating Spider Veins on the Face
Clarasome moisturizer by Dermaclara Beauty is our top choice for dealing with spider veins. Hyaluronic acid is absorbed into the skin, promoting the growth of collagen and elastin and undermining some of the causes of spider veins, including damage from UV light and skin conditions like eczema. 
Pros 
Clinically proven to improve the

appearance

of fine lines.

Provides hyaluronic acid, which soaks in and promotes collagen production. 
Cons 
To optimize benefits, you'll need to use it with the company's clarafuse silicone patches.
Testing giant BioScreen put these Silicone Fusion™ face patches to the test and determined they restore a vibrant, healthy appearance to damaged skin. The patches foster a nourishing microclimate at the surface that helps close spider veins and restore the surrounding tissue. When used in concert with clarasome moisturizer, these products provide an effective one-two punch against spider veins. 
Pros 
More effective than other forms of facial masks.

Reduces the

appearance

of all types of lines, wrinkles and blemishes. 
Cons 
Only available online at the official Dermaclara Beauty website. 
Once you get past the Dermaclara products above, the effectiveness of OTC spider vein treatments drops off significantly. Still, there are a few that are worth a mention.
3) VariCream - Varicose & Spider Veins Cream - $49
VariCream is designed to help alleviate some of the discomfort associated with varicose veins. That said, it has been shown in a limited number of instances to help reduce the appearance of spider veins. It uses a proprietary blend of herbs and minerals to reduce inflammation, which helps rein in the appearance of the spider veins. It's a very hit-or-miss proposition though. 
Pros 
Can help to

reduce

the

appearance

of

spider veins

if used regularly.

It's made in the US under FDA supervision, so it probably won't do any

damage

. 
Cons 
Some women may see no improvement at all.
4) Advanced Clinicals Vein Care - $12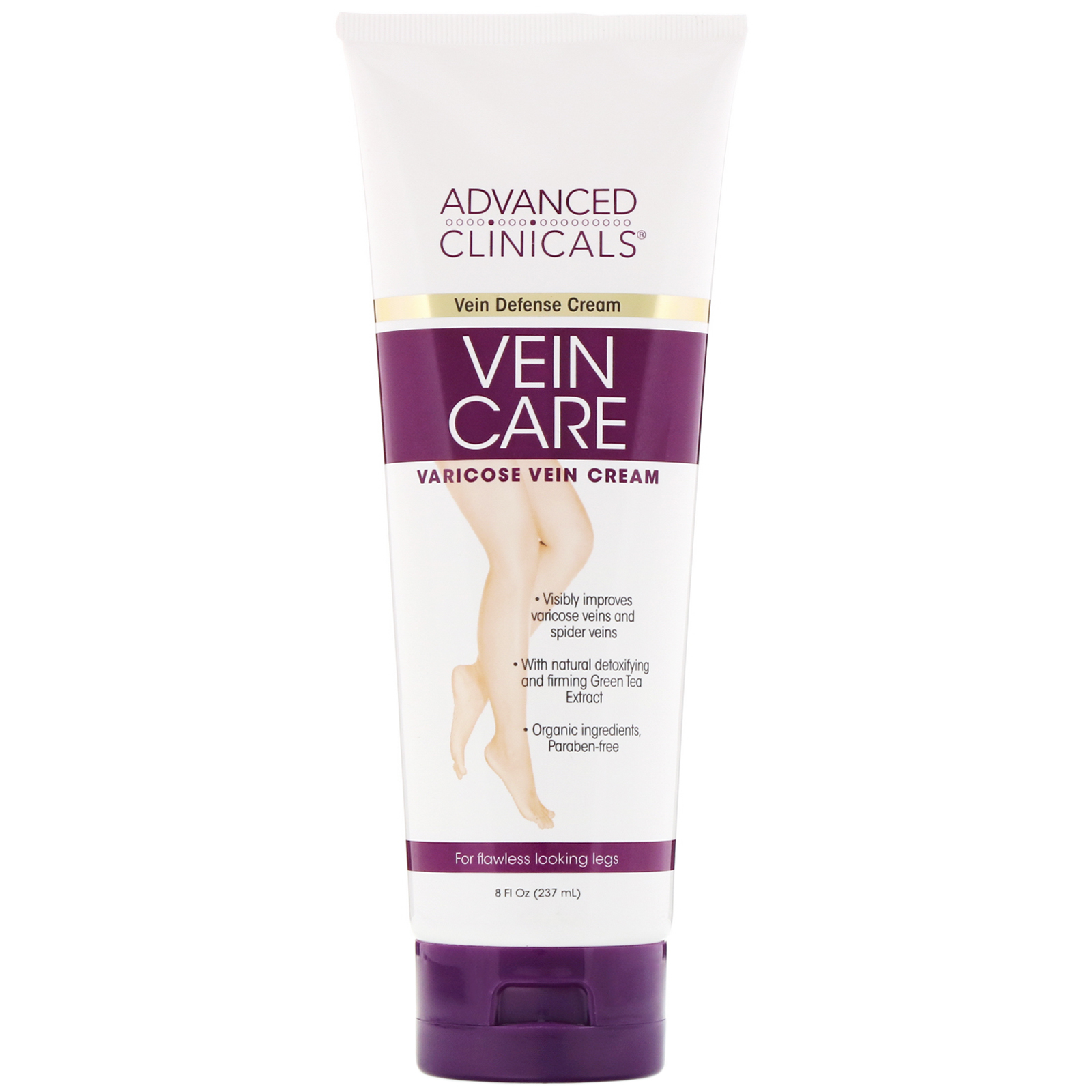 Here's another shot in the dark cream. This one, however, was actually formulated to address spider veins on the face. Even so, the results are uneven at best, with some ladies claiming it does a satisfactory job and others not so enthusiastic. Still, at this price, it may be worth a try. 
Pros 
It can relieve the

surface

discomfort that can accompany 

spider veins

.

It's delightfully affordable. 
Cons 
Don't get your hopes up too high.
5) IQ Natural's Vitamin K Spider Vein Treatment - $19
This spider vein treatment also does an okay job of reducing the appearance of spider veins. However, if the spider veins on your face are deep-seated and widespread, it won't do much of anything. So if you just noticed a few thin spider lines on your face, you might want to give this a try. 
Pros 
Does a decent job evening out blemishes.

All-natural ingredients won't harm your

skin

. 
Cons 
Works on only the lightest

spider veins

.
Where Can I Buy Products That Treat Spider Veins on the Face?
Most of the products we profiled above are available at better online beauty supply stores like Sephora and many others. They're also available at the brick and mortar versions of those stores, as well as at most find department stores. In addition, you will find most of them available at Amazon. Although we'd strongly advise that you only purchase beauty products on Amazon through the manufacturer's official "shop." The Clarasome and the Silicone Fusion™ Treatment we highlighted are available through the official Dermaclara Beauty website, which you can find here.
Final tips: Why it's Important to Have Healthy Skin Under Your Eyes
They say the eyes are the windows to the soul, but you could just as well say the skin under the eyes is the window to your health. The thin nature of the skin under your eyes makes it more susceptible to problems caused by dehydration, lack of sleep, illness and more. And also makes it a leading indicator of developing problems. If the skin in this part of the face is healthy, moist, supple and clear, it's a bellwether for your overall state.