Palmer's Cocoa Butter Review - Medical Review (2021)
Let's face it, we are our greatest critics! Fine lines, dry skin, a pimple, or stretch marks have the potential to test our ability to be kind, loving, and gentle towards ourselves.
It's no secret that the better you look, the better you feel about yourself. One of the best ways to instantly improve your confidence, self-esteem, and self-love, is to take great care of your skin and enjoy the benefits of a smooth, healthy, and vibrant complexion!
Unfortunately, there are so many challenges that come with proper skin care, including knowing which product is best for you. From avoiding harsh chemicals, ensuring effective results, to ease and affordability, it's easy to drown in a sea of buzzwords, fads, and glossy packaging!
In this post today, we're going to investigate a tried and tested product, Palmer's Cocoa Butter, and see if it's worth the hype!
So, if you're dealing with scars, stretch marks, or cracked, painful, and dry skin, listen up!
How Does Skin Become Damaged?
Strong healthy, vibrant, and smooth skin is reliant on multiple factors. The skin is made up of proteins called collagen and elastin. The building blocks of these proteins are fibroblast cells. These cells are essentially responsible for the structural framework of the skin.
When fibroblast cells are damaged or not working properly, collagen also gets damaged or weakened, and the skin cannot heal or regenerate. One of the best things that we can do for our skin to prevent skin damage such as scarring stretch marks, dry skin, premature aging, and also hormonal skin issues like cystic acne, or psoriasis and eczema, is to ensure strong fibroblast activity and healthy collagen production.
Our skin quality is significantly dependent on the quality of collagen and elastin in our body. Many factors ensure high-quality production of these proteins. Diet can have a big impact on our skin. It's important to include anti-inflammatory foods, antioxidants, and skin building vitamins like vitamin A, E, D, C, as well as zinc, and omega fatty acids in the diet. Our lifestyle also greatly affects the quality of fibroblast cells. It's important to keep stress levels low, stay out of the sun, drink enough water, take care of our skin through massage and hydration, and refrain from creating free radical damage such as through smoking and alcohol.
The Importance of Skin Hydration
Both internal and external hydration is essential for proper skin health. Moisture retention in the deeper skin layer, the dermis, results in hydrated skin that looks youthful, plump, smooth, and glowing. If you have dry, dehydrated, and rough skin this might mean that collagen production is not functioning optimally.
High-quality collagen production is hydrating and beneficial for the skin, especially when combined with an ultra-moisturizing skin care routine with products that include skin-loving ingredients like hyaluronic acid or cocoa butter. Also, products that combine vitamin C to help with collagen synthesis, and elastin to improve skin elasticity are a perfect formula for healing, renewing, and maintaining smooth, vibrant, and youthful-looking skin.
Is Palmer's Cocoa Butter Good for My Skin?
Palmer's cocoa butter provides hydration, as well as a protective moisture barrier for expanding skin. The formula aims for 48-hour skin moisturization for areas that are prone to skin damage, such as the belly, buttocks, hips, thighs, and also breasts. It has been known to visibly improve skin elasticity and repair skin damage, since when the skin is moisturized and supple, it can stretch, and flux more easily.
How Does Palmer's Cocoa Butter Work?
Palmer's Cocoa butter is made with ingredients that help hydrate the skin, such as cocoa butter, shea butter, vitamin E, lutein, Aragon, oil, almond oil, and coconut oil.
Cocoa Butter & Shea Butter
Cocoa butter and Shea butter work together to form a protective moisture barrier for the skin and to soften, smooth, and plump the skin.
Cocoa butter is a fatty substance, obtained from cocoa beans. It has been known to reduce hyperpigmentation, and have strong moisturizing effects.
Shea butter is a fatty substance obtained from the nuts of the Shea tree. In studies, it has been associated with reduced keloid fibroblast activity. This means that it helps with scar reduction.
Vitamin E
Vitamin E is a super antioxidant that supports moisture retention and helps to repair skin damage. It also works as a skin barrier stabilizer
Lutein
Lutein is a natural antioxidant. It is known to help improve skin hydration and support stretching skin.
Aragon, Almond & Coconut Oil
This oil blend helps to soften and moisturize skin while helping to reduce the appearance of scars.
Almond oil is an oil expressed from bitter almonds. It is rich in vitamin D and E. It has been known to maintain skin elasticity and help with hydration.
Coconut oil is a fatty oil obtained from the flesh of the coconut. It is known to have great anti-inflammatory properties.
Is Palmer's Cocoa Butter Pregnancy Safe?
Palmer's Cocoa butter is a dermatologist-approved, hypoallergenic product. Its formula is free from mineral oil, phthalates, and parabens, as well as toxic fragrances. It is a pregnancy-safe option to keep skin moisturized and improve skin elasticity.
What Results Can I Expect with Palmer's Cocoa Butter?
Palmer's cocoa butter can help calm, soothe, and hydrate the skin. In clinical studies over 98% of women saw improved skin elasticity, improved skin texture, and improved skin tone. It is also said to help reduce the appearance of stretch marks.
Can I Remove Stretch Marks With Palmer's Cocoa Butter?
Very few studies have tested the efficacy of commercially available cosmetic products for preventing stretch marks. The majority of stretch mark creams fail to mention their role in both the prevention and treatment of stretch marks. Studies confirm that there is no topical cream that is shown to be most effective in eradicating or improving stretch marks.
One main reason for this, is that stretch marks appear as the result of deep dermal scarring. When collagen fibers break from rapid skin tearing, a scar appears on the surface of the skin. Topical creams like Palmer's Cocoa Butter impact surface level moisture but don't help create, repair, or resolve the deeper damage in the dermis.
An effective stretch mark removal regimen addresses both the deep dermal damage, as well as the surface level scaring. That said, Palmer's Cocoa Butter contains key ingredients that can help smooth, and fade stretch mark scars, but not remove the scar completely.
If you're looking to permanently remove your stretch marks, scars, or wrinkles you must increase and repair collagen and elastin production in the deeper skin layers, in addition to moisturizing with a deeply hydrating cream like Palmer's Cocoa Butter.
Ready to Repair Collagen Damage to Remove Stretch Marks, Fine Lines, & Sun Damage?
When medical grade silicone is placed directly onto skin-damaged or stretch-mark-prone areas, it creates a closed and breathable microclimate. This environment allows oxygen to pass through and lets the skin breathe while locking in the newly created moisture. This moisture is then drawn up from the dermis to the surface layers of the skin.
This process results in activated, normalized and encouraged collagen production. As a result, the skin heals and repairs itself, resolves problems like sun damage, wrinkles, or stretch marks, its appearance is enhanced and smoother looking skin is revealed.
In clinical studies, after just one application of 100% medical-grade silicone, the skin showed a significant increase in hydration and photodamage repair, as well as a reduction in roughness and wrinkle depth.
In addition to the deeply hydrating effects, silicone patches also help keep the skin flat and prevent new damage from occurring. Silicone is a 100% safe, natural, hypoallergenic and dermatologist-tested, way to improve the appearance of skin and repair skin damage.
What Are the Best Palmer's Cocoa Butter Products For Stretch Marks?

This lotion aims to visibly improve skin elasticity and reduce the appearance of stretch marks from pregnancy or weight gain. It can be used in place of a normal moisturizer or as a massage lotion. If you have stretch marks. It is recommended to apply this lotion up to three times per day.

This cream is known to improve skin elasticity and also aims to reduce the appearance of stretch marks. When used for massage, it's a great way to increase blood circulation, which improves collagen production. This massage cream can also be used in conjunction with a self-massage tool https://www.dermaclara.com/collections/wrinkles/products/claratone on problem areas that have stretch marks, scars, or other skin issues.

This solid formulated tummy butter works well with all skin types. It is recommended during and after pregnancy, as an intensive stretch mark treatment. It's rich formula is ideal for nighttime use.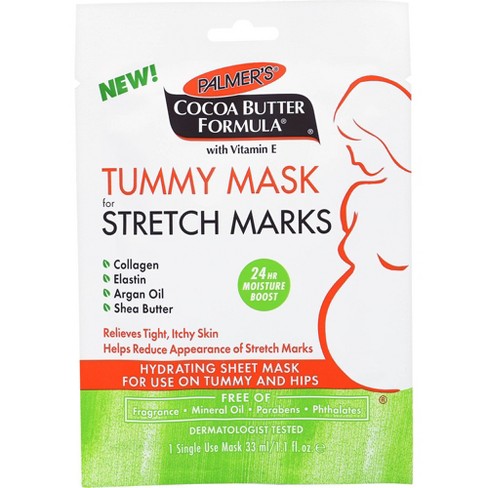 If you have tight, itchy skin this mask can help relieve those issues by deeply hydrating the skin for 24 hours. It's perfect for use on the tummy, and hips.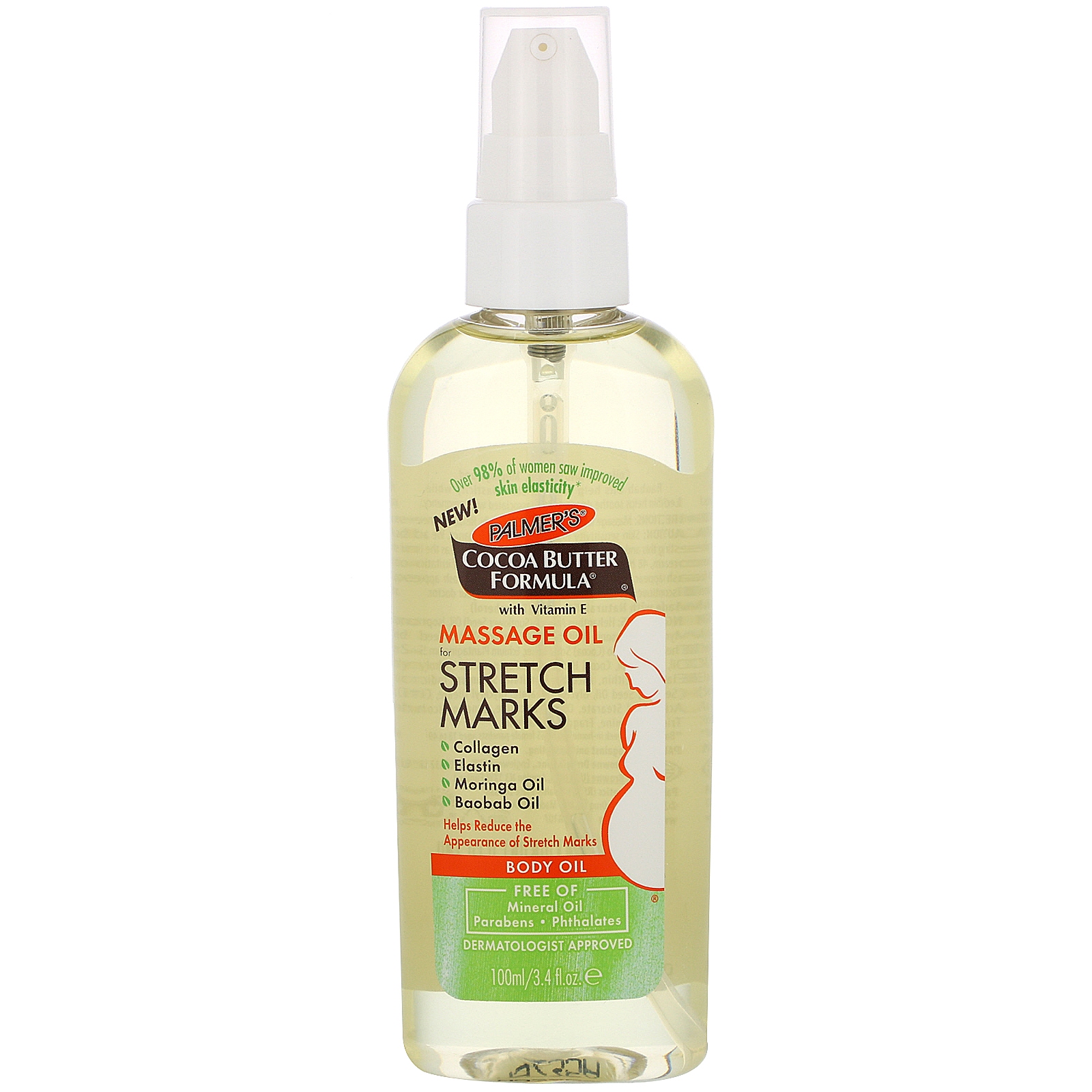 This is a lightweight and nourishing oil that helps to hydrate and strengthen the skin. It's perfect for a prenatal skincare regimen. Use it twice daily and reapply as needed.
How Can I Get The Best Skincare Results From Palmer's Cocoa Butter?
When the deeply moisturizing effects of Palmer's Cocoa Butter are combined with a collagen repair treatment, it's possible to completely repair and renew skin damage, and reveal smooth, hydrated, and healed skin.
Here is a best-practices skincare regimen to help you get the best results from Palmer's Cocoa Butter and wipe out wrinkles, fine lines, sun damage, scars, and stretch marks!
1. Clean & Exfoliate


Start with cleaning the surface of the skin to remove dirt, oil, and other environmental pollutants that leave the skin dry, clogged, and dull.
Use an exfoliation tool to help remove pore-clogging debris, reveal a clearer complexion, restore a youthful glow, revolumize the skin, and lock in moisture. Exfoliation helps unclog pores, revives the skin, and allows for extra absorption of serums and moisturizers.
2. Treat

Next, treat the skin with an Enhanced Silicone Fusion™ Body Patch. Remove the patch from the plastic backing and place the patch adhesive upside down on the treatment area. It's important to leave medical grade silicone on the damaged skin area for up to eight hours.
3. Moisturize & Massage

Once the silicone patch has been removed, apply Palmer's Cocoa Butter to the freshly treated area.
Massage the cocoa butter into the skin with an advanced micro-pulsation massage tool. This will help improve product absorption, increase blood flow, support collagen production, and reduce inflammation.
With the right and consistent skincare regimen, over time, the color of stretch marks or scars, should fade, and eventually disappear completely.
Conclusion: Is Palmer's Cocoa Butter a "YES" or "NO"?
Palmer's Cocoa butter is an excellent moisturizer and a safe and natural option for skin that has been damaged, aged, or is in need of deep hydration. Remember that beautiful skin requires the proper lifestyle changes, excellent nutrition, and a self-care regimen based on best skincare practices.
Remember to work with reputable, dermatologist-tested skin care brands, and look for products that have clinical trials with proven results to save yourself both time and money!
Dermaclara believes that beautiful skin is possible, naturally, without a visit to the doctor's office, painful surgeries, harmful injections, or dangerous chemicals. Visit www.dermaclara.com to learn more.